I want one!
Starting out as a joke when this story was first released a few days ago, this hairy ballbag backpack is gaining quite a following. Who wouldn't want  to shock old ladies while out about town?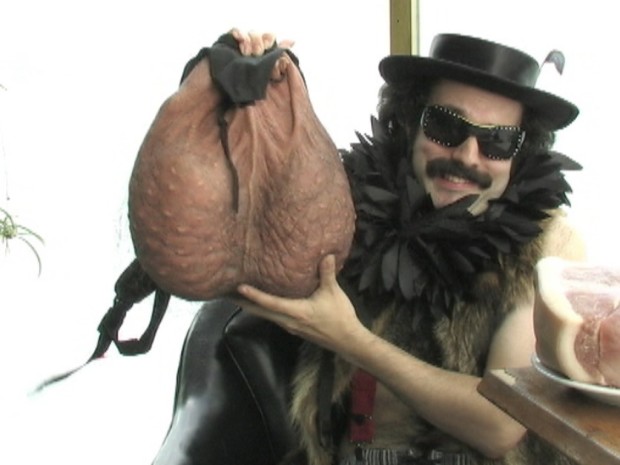 When the article below was written, just under five thousand dollars had been pledged. But the lifelike handy scrotum satchel at the time of writing it is now well on its way to hitting its target. It's almost in the bag!
Semen Simon
---
Realistic scrotum backpack prompts unrealistic crowdfunding campaign
By Brian Koebrer
Some people wear their heart on their sleeves, but if you've ever wanted to wear your balls on your back, one Indiegogo campaign is going to give you that ability, for the low, low price of $69.
The ball bag, appropriately named the Scrote'n'Tote: The Satchel of Life, is the brainchild of Daniel Bitton. Last year, a picture of Bitton wearing his sac received some attention online, sparking thousands of like-minded individuals to think, "Hey, I really need a backpack that looks like a hairy nut sack."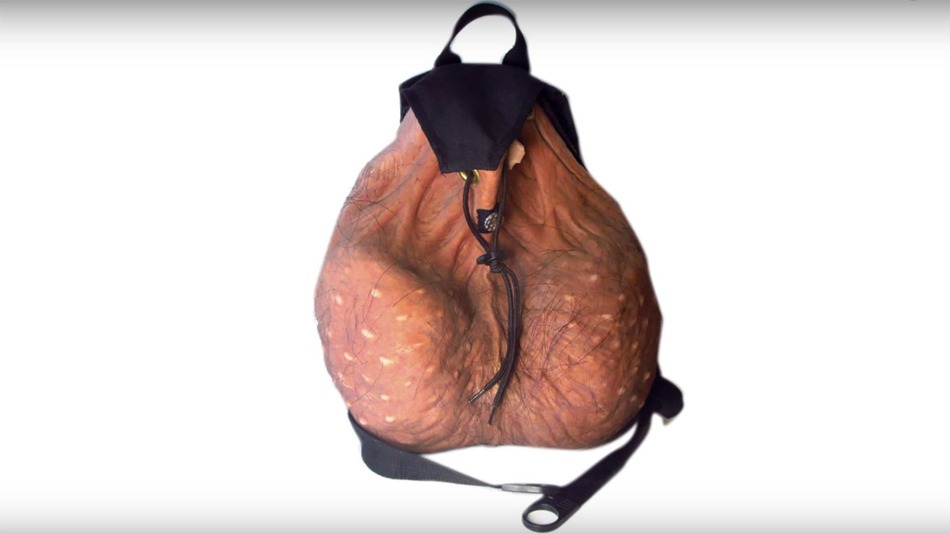 Bitton is attempting to raise $33,000 to fund production of the testicular pack, and he created this odd and creepy video to convince anyone with the cash to burn to donate to his cause. "Although the video may suggest otherwise, this is an actual and legitimate project," Bitton writes on his campaign page.
Bitton also uses the convincing argument "just send me the money," and encourages his buyers to "wear it like a man."
[embedyt] http://www.youtube.com/watch?v=dLGAitlDKNI[/embedyt]
As gross, classless and worthless as you may consider the bag to be, it is incredibly realistic. It really looks like a healthy pair of testicles, and was actually created by professional special effects artist C.J. Goldman. Unfortunately, this realistic look costs nearly $1,000 to produce per bag, so Bitton is trying to raise the cash to find a cheaper way to manufacture the bags.
If he accomplishes that feat, the bags will sell for $120 each, but campaign backers who donate $10 now will be able to purchase one for $69. Or if you're really feeling confident, you can just donate the full $69 today. The bags are available in ebony and ivory.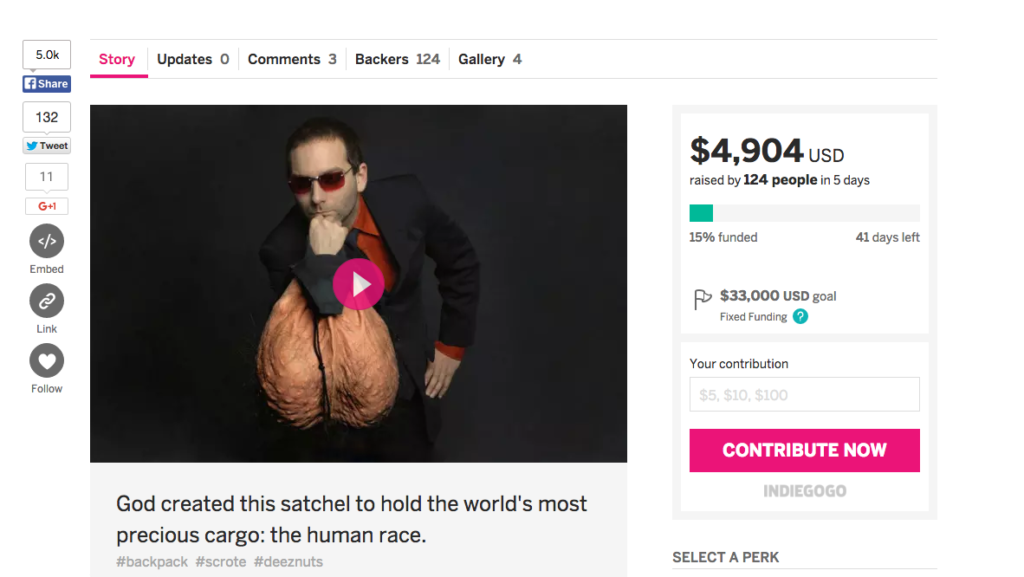 With 41 days left at the time of writing, the campaign has raised $4,904 in five days with 125 backers, which means we may actually see this thing happen.
---
Source: http://mashable.com/2015/11/02/ball-sack-scrotum-backpack/#JsH5_iUKaPqI