Tracy Kiss is at it again!
But this time, she is swallowing it!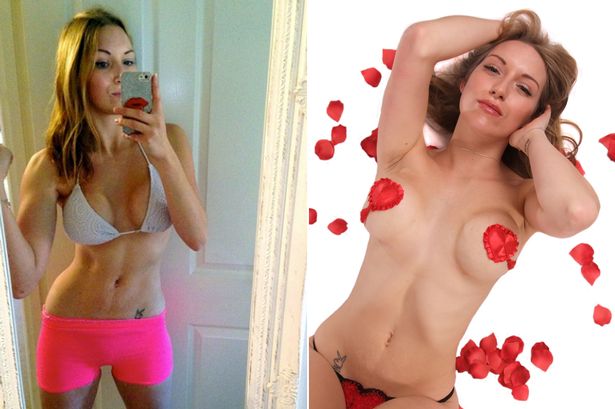 You might remember how just under a year ago I blogged on sperm loving beauty guru Tracy Kiss. If you recall, this rather saucy blog babe was espousing the benefits of cum on her face.
The beauty expert swore to her legions of female followers, that if they rubbed semen into the face like she did, then they'd keep a wonderful complexion. In her video she gave a demonstration, rubbing a friend's sperm into her face.
Not surprisingly, not only women were interested in this particular story, and her story went viral, hit the mainstream press and her blog visits rocketed! You can read my post and watch the facial video at this link!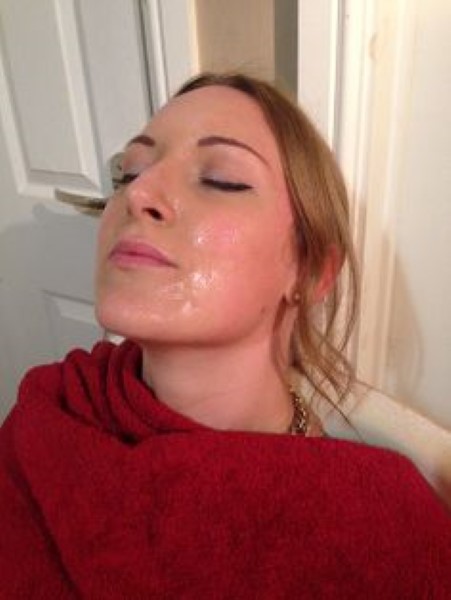 Well that was good for her. Not just her skin, but good for her blogging career. It was good for women who tried it, and of course, it was good for us guys who are very happy to help make our women as beautiful as possible. 🙂
I had a look at her page and it's pretty clear which post gets all the attention. The lotions, the diet advice, all that gets a few comments and video views. And although she must have won over a lot more followers, she never reached anywhere near those sorts of heights of attention again.
Write about cabbage facials, yeah you get a few hits. Give yourself a sperm facial then you're global!
Following the disproportionate success of the cum facial it seems that Tracy Kiss has decided to go a step further. This time she is swallowing her friend's sperm in a new video below about the benefits of eating cum!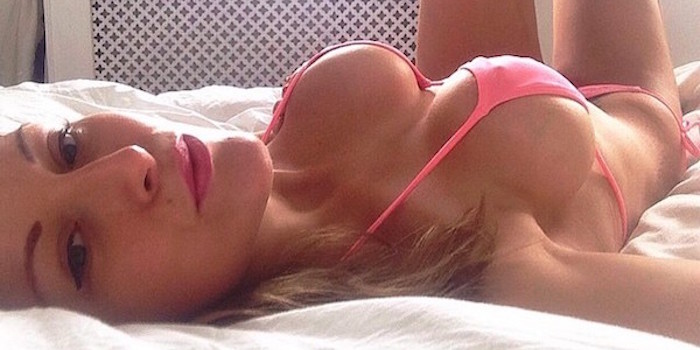 Shameless attention whoring?! Wonderful health adivce? Who cares! This girl is making a living telling other girls to embrace getting jizz in their face and how swallowing it is healthy and will make them beautiful! How could we argue with that!
Enjoy her cum swallowing video below!
Semen Simon
---
WANT TO BEAT FLU THIS WINTER? This single mum-of-two swears she never catches colds by drinking SPERM smoothies
Tracy Kiss puts a spoonful of her best friend's donated semen into her drink every morning in a bid to boost her immunity
EXCLUSIVE
BY ALLEY EINSTEIN AND SARAH BARNS
A SINGLE mum-of-two claims she beats the flu by drinking sperm smoothies.
Tracy Kiss, 29, from Buckinghamshire, puts a spoonful of her best friend's donated semen into her drink every morning in a bid to boost her immunity.
The personal trainer, who is mum to Millicent, nine, and four-year-old Gabriele, has previously advocated using sperm as a facial ointment.
On her bizarre beverage concoction, she said: "I'd been feeling run down and had no energy, but now I'm full of beans and my mood has improved.
"It can taste really good – depending on what my friend has been eating. My other mates think I'm strange, but I don't give a toss."
Tracy, who is a vegan, roped her 31-year-old single pal into giving her his semen. He comes round with a fresh tub three times a week.
"I know he's healthy, doesn't smoke, drink or do drugs and I made him have an STI check," she said.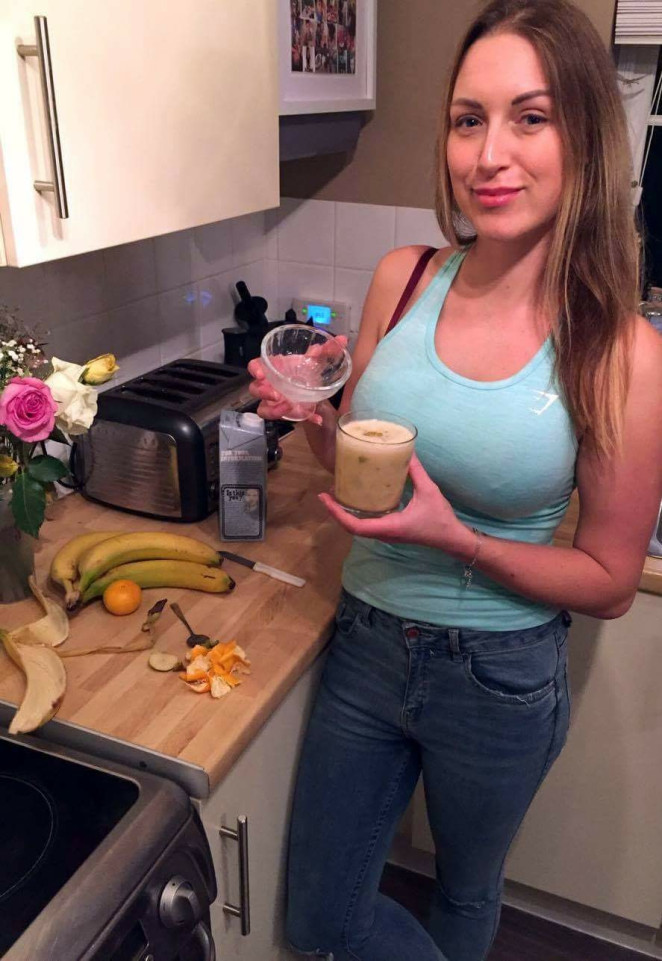 "When I first approached him, he was concerned I'd use it to impregnate myself.
"But once I'd convinced him it was for my beauty regime he agreed – after all, he has a regular supply at hand!"
Tracy, a qualified nutritional adviser, has been drinking it every day for the past month and stores it in the fridge alongside her weekly shop.
She mixes the semen with fruit, seeds, coconut or almond milk – but is also happy to drink it on its own.
"Every batch tastes different, depending on what he's been eating," she said.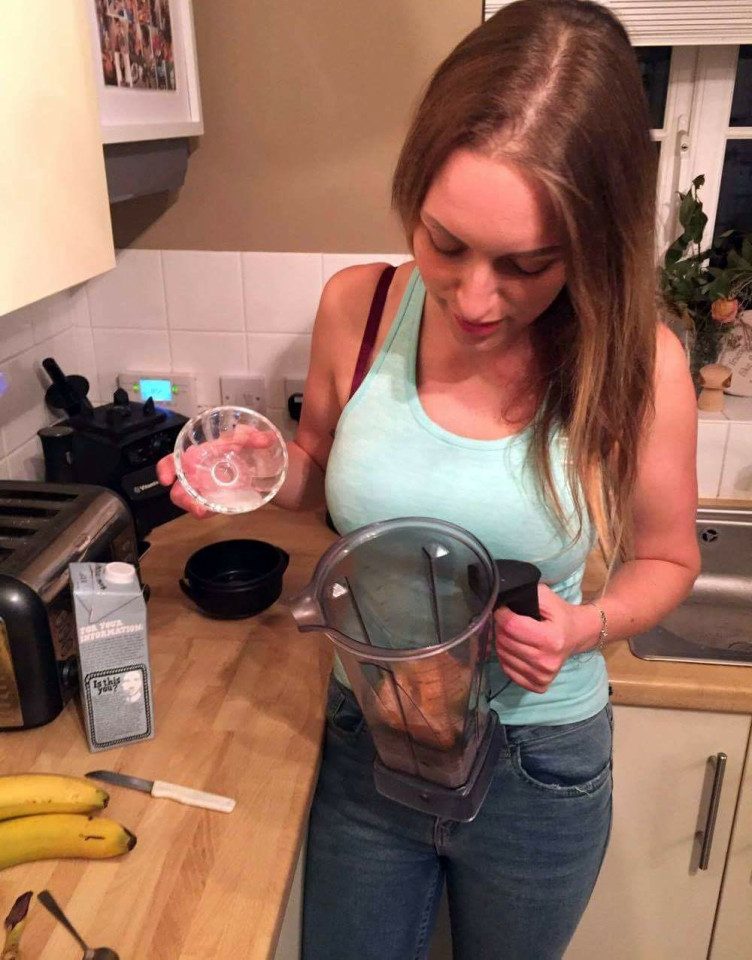 "If he's been drinking alcohol or eaten something particularly pungent like asparagus, I ask him to give me a heads up so I know not to drink it neat.
"Things like pineapple and peppermint make it taste better, but I'll happily take it straight off a spoon usually."
Tracy has filmed a YouTube video where she talks through her unusual remedy and explains what it tastes like.
"We look at its smoothness and texture, discuss its benefits and then I show people who I use a teaspoon to eat the sperm," she said.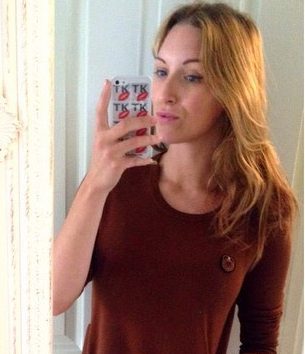 "Sperm is an awesome product and we should stop being so ridiculous about it – the health benefits have been well researched and more women and men should take advantage of it particularly as its made by our own bodies and doesn't contain e-numbers and chemicals."
For two years, Tracy, on the alleged advice of her beautician, has been using it as a skin product to help soothe her rosacea – a condition that causes redness.
She mixes sperm with egg whites and lavender oil, then leaves it on her face for 15 minutes, three times a week.
She said: "I felt the need to share this information. People are so weird about sperm when in actual fact a teaspoon is filled with amazing goodness."
Although she has been single for three years, Tracy hopes to find love in the future – with someone who understands her lifestyle.
"I want a relationship where my partner asks if I want one shot or two shots of sperm in my smoothie each morning!" she said.
[embedyt] http://www.youtube.com/watch?v=aOENUWCxfqA[/embedyt]
---
Source: https://www.thesun.co.uk/living/2138407/this-single-mum-of-two-swears-she-never-catches-colds-by-drinking-sperm-smoothies/?CMP=AFF-Sun_traffic_gen-Awin-19_10_2016-1403-0-0-0&awc=7715_1479760688_f137353e1e2e77cfcca051b0b3656c2a