Hello all,
and welcome to facial February. I came across (well not literally) this sperm news and just had to post it. It seems that massive cum drinking has now gone mainstream in the USA!Well, almost. The world's leading puke programme, Fear Factor, is in deep dung this week. Why? Well their latest stunt included hot twins drinking a mug of donkey semen and a chaser of donkey urine. Yes it seems that drinking a pitcher of donkey jizz is perfectly acceptable for family viewing in the US! This pint of donkey sperm ended up in a girl's belly and all in the name of good old American entertainment!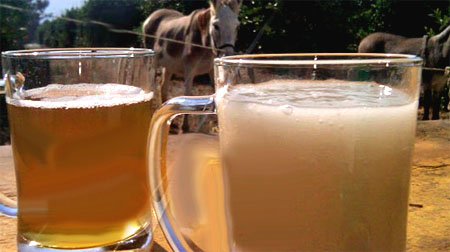 The thing is NBC are under fire and backtracking in light of the donkey spunk chugging episode being the topic of hot conversation on TMZ. In TMZ's interview the cum guzzling babe was asked to compare human and donkey cum and said the donkey jizz was 'thicker'. Cue outcry from the netizens and the show pulled it from its scheduled slot!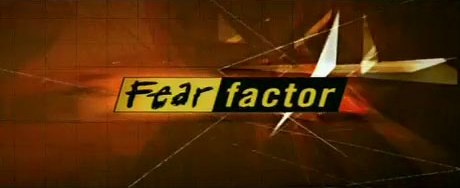 You have to feel for the twins, who are as you can see, rather shaggable. They wanted their 15 minutes of fame an drank all that piss and cum for nothing!
Semen Simon
---
By Ethan Sack, New York Daily NewsAs if forcing contestants to drink donkey semen wasn't bad enough,
"Fear Factor" executives are apparently waging a campaign of fear
against contestants.
In the wake of NBC's decision to yank Monday night's episode featuring the (poor) taste test, twin contestants Claire and Brynne Odioso
gave an interview Tuesday morning with their hometown Tampa Bay radio's
"Cowhead Show" describing in detail what their mugs of donkey semen —
complete with urine chasers — tasted like. (Bitter with "with hints of
hay", for those who are really curious.)
A few hours later, however, the twins were reminded in a phone call
from a show representative that they had signed confidentiality
agreements. The staffer warned them to stop talking to the media or else
face legal reprisal, TMZ reported.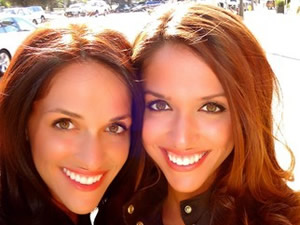 "We are disappointed because we wanted to share the experience with our friends and family," Brynne Odioso told Patch.com
"We feel no animals were harmed during the stunt, and it is known that
animal semen is consumed in parts of the world like Australia and New
Zealand."
The episode, entitled, "Hee-Haw!
Hee Haw!," was replaced with a rerun on orders from NBC's parent,
Comcast, after news of the donkey semen stunt leaked on the Internet, to
much disgust.
"Fear Factor" host Joe Rogan had hinted at what lay ahead in a December interview with The Daily News.
"I say, in the real world, in a healthy society, you're not supposed to
eat animal d—, but guess what, here you have to eat animal d— if you
want to win $50,000," Rogan said.
---
News source: http://www.nydailynews.com/entertainment/fear-factor-warns-donkey-semen-drinking-contestants-talk-media-reports-article-1.1014860