Hello all,
I'm not going to add to this mass hysteria concerning Ebola. The press is having a feeding frenzy whipping up panic, for what is admittedly a nasty disease, but isn't killing anywhere near the numbers of people as diseases such as malaria or HIV. Or a host of other health concerns!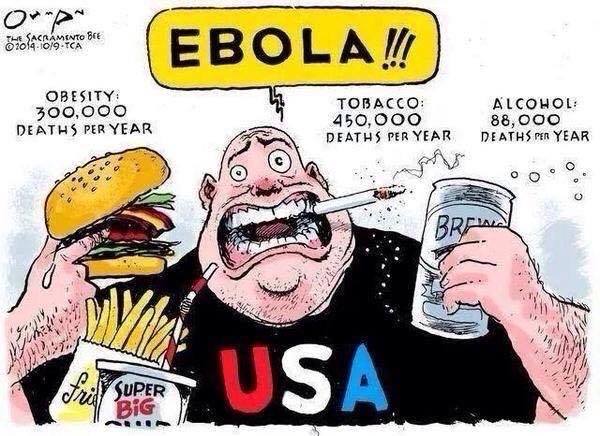 Nope! I'm just posting this article because it's about sperm and I have blogged on semen, bukkake and sex-related stories for years. This article in The Washington Post highlights something quite interesting. Ebola can persist in semen!
So bukkake fans, note that huge sticky facials in infected West African villages should be avoided…
Semen Simon
---
Sex In A Time Of Ebola
By Larry Bernstein and Joel Achenbach
When the only way to get an often fatal disease is through contact with body fluids, it makes good sense to be very careful about sexual partners and practices. But since Ebola victims can infect others only when they are showing symptoms — high fever, vomiting, diarrhea, weakness and aches — physical intimacy probably isn't a common way of transmitting the disease.
However, the Ebola virus can survive in semen for months after a man recovers from the infection, posing an ongoing threat to sexual partners long after he is well. At a time when a man's bloodstream is swimming with antibodies, and he is immune to the disease, he still may be able to infect others.
As a result, Ebola survivors in West Africa and elsewhere are being advised to remain celibate or use condoms for three months after their release from treatment centers. In Lofa County, Liberia, where the epidemic began six months ago, UNICEF workers doing outreach work were told the story of one local man who recovered and infected his girlfriend through sex, according to a UNICEF official. The woman later died. (We couldn't independently verify that account).
The World Health Organization made a point of this on Monday when it noted that "in a convalescent male, the virus can persist in semen for at least 70 days; one study suggests persistence for more than 90 days."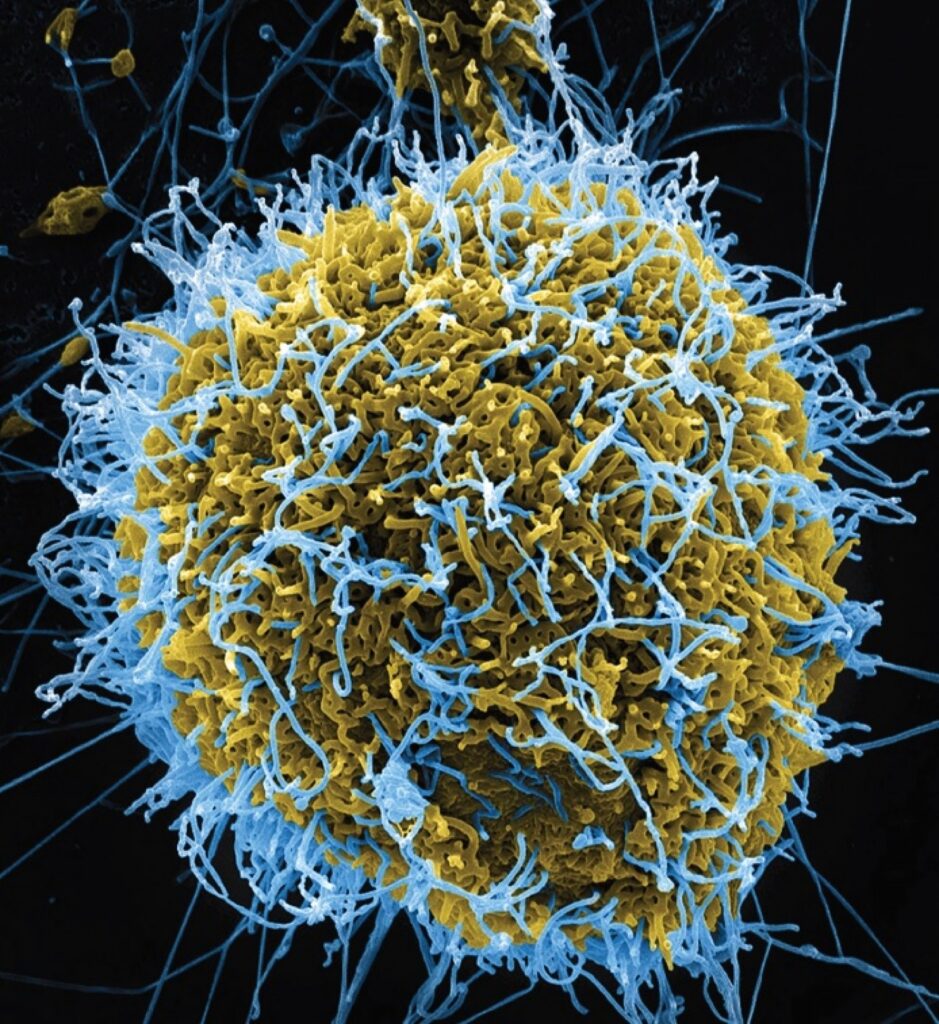 Above: An electron micrograph scan shows the Ebola virus emerging from an infected cell. (NIAID/NIH)
The magnitude of the threat is not entirely clear, however. After past Ebola outbreaks, follow-up studies of people who have recovered from Ebola found no evidence that the virus was transmitted from a recovered patient to close contacts, according to Bruce Ribner, medical director of Emory University's Infectious Disease Unit, who led the team that successfully treated American missionaries Kent Brantly and Nancy Writebol.
Some body fluids and excretions clearly transmit the virus: Blood, vomit and feces are being blamed for the rapid spread of the hemorrhagic disease in Liberia, Sierra Leone and Guinea, where more than 3,400 people have died from Ebola infection. The Ebola virus also has been detected in urine and breast milk, according to the WHO.
Other fluids are trickier. Ebola is not an airborne virus, like SARS or the flu, but "theoretically," the WHO notes, "wet and bigger droplets from a heavily infected individual, who has respiratory symptoms caused by other conditions or who vomits violently, could transmit the virus – over a short distance – to another nearby person.
"This could happen when virus-laden heavy droplets are directly propelled, by coughing or sneezing (which does not mean airborne transmission) onto the mucus membranes or skin with cuts or abrasions of another person." But the agency adds that there are no studies that document this method of transmission.
Saliva and tears may also carry the virus, but studies blaming them for transmission had small samples and were inconclusive. "In studies of saliva, the virus was found most frequently in patients at a severe stage of illness," the WHO said.
"The whole live virus has never been isolated from sweat," the agency added, but one infectious disease specialist we spoke with said it stands to reason that Ebola could be transmitted by direct contact with someone else's perspiration.
---
Source: http://www.washingtonpost.com/news/to-your-health/wp/2014/10/08/sex-in-a-time-of-ebola/