Hi all,
it's February 29th, a day which comes around only once every four years. It's special not only because it's the end of urabukkake's facial February, but because (all your romantics out there) it's the only day that women can propose to men. Yes it's true, at least in parts of the British Isles. According to some the tradition comes from 5th century Ireland where sexually frustrated and pissed off women got fed up of waiting for the man to pop the question leading to the very holy and practical St Brigit announcing the tradition.
So if you are avoiding wedded bliss but your other half has thrown in a bunch of a less than subtle hints about getting married – like hanging round the jewelry shop or asking 'where is this relationship going?!' – then make yourself scarce today.
Me, I'm all for ladies going down on one knee. Or both.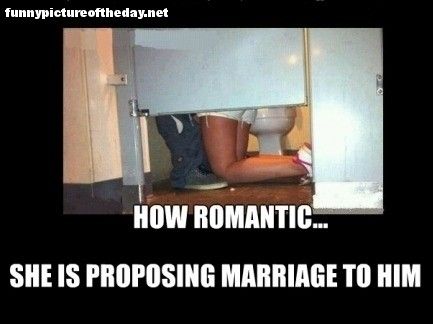 P.S. Never marry a woman who can't give a killer blow job! It's a recipe for marital disaster. It sounds obvious but you wouldn't believe how many men stray from the righteous path of lifelong faithfulness due to the fellatio failings of their beloved spouse!
Semen Simon