Hi everyone,
we've had tonnes of emails to the Urabukkake Blog and messages on Urabukkake Twitter over the years asking bout the prospect of giving our copious sperm to non-Japanese girls.
Although everyone it seems love Japanese bukkake some of you have pleaded with us to feed our cum to girls from other countries and also drench their pretty faces in nasty semen.
But we don't want to upset our paying members, those who keep the site going. So we thought we'd put it to them and to the wider bukkake community – Do you want to see inter-racial facials?!
Well we ran a poll on it and the results are in!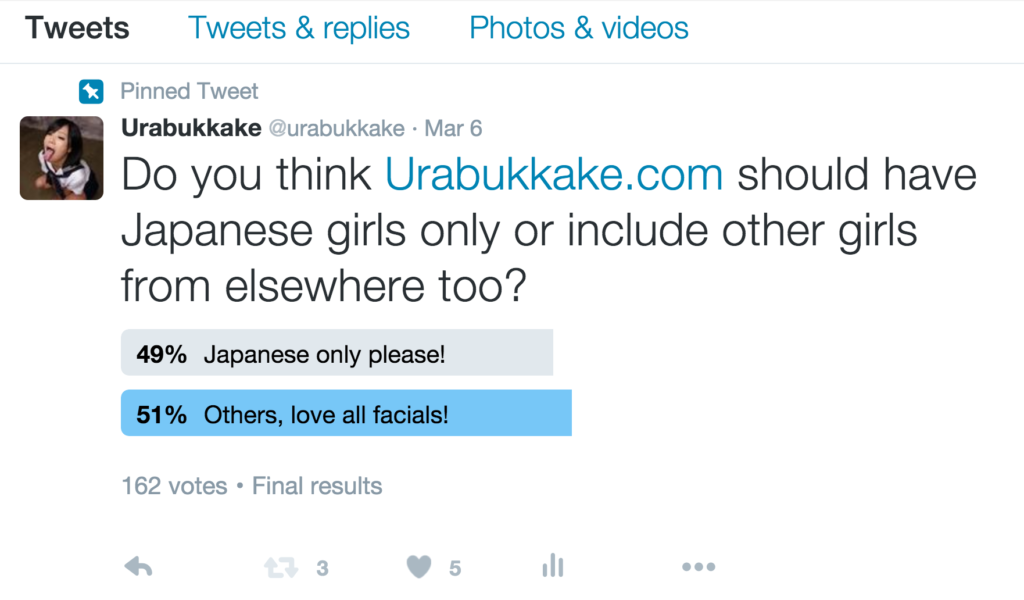 It seems that opinion is divided on the issue! It's virtually split down the middle but those wanting us to give mucky facials to foreign girls have the edge!
It has to be said that the poll was run in English and not Japanese. Had we run it in Japanese we're pretty certain the results would have been very different. But it's food for thought!
Thank you to all of you who voted, all 162 of you! That's not a bad pool of opinion. We're open to your feedback as always. Shall we actually bukkake a non-Japanese girl? We'll consider it… 🙂
Semen Simon