Holy shit.
This is just one of those stories that you makes you cross your legs when reading it. A wild and thrashing eel that decides that it wants to wriggle and squirm its way into your jap's eye and up your cock. Can you imagine the panic as you frantically try to tug the slippery monster out of your bell end? And seeing it vanish with a flick of it's tail and feeling it diving deeper up your agonised dong? It's like Ridley Scott's 'Alien' but in reverse – and much worse. Even the gore-loving aliens knew that groinal invasion was beyond hideous.
Horror story recounted below!
Semen Simon
---
By Mark Pangallo
Eel Removed From Man's Bladder After Entering Penis During Beauty Spa

An erratic eel wriggled its way up a man's penis and into
his bladder following an accident during an unorthodox beauty spa
treatment in China.
Zhang Nan was bathing with live eels to cleanse his skin when one rogue serpent took a liking to his manhood.
The eel treatment in question is a similar concept to the popular London spas that offer fish pedicures.
Thinking that the eels would make him look ten years younger,
Nan dived into the water and let them feast upon layers of dead skin.

But after laying in the spa bath, Nan felt a sharp pain and
realised a small eel was working its way up his urethra and into his
bladder.
'I climbed into the bath and I could feel the eels nibbling my
body. But then suddenly I felt a severe pain and realised a small eel
had gone into the end of my penis,' the 56-year-old from Honghu, Hubei
province said.
'I tried to hold it and take it out, but the eel was too slippery to be held and it disappeared up my penis.'
(OK, that's enough cringing now… it's horrible, though, we know…)
Rushing
himself to hospital, the man underwent a three-hour operation to remove
the six-inch eel which was dead by the time doctors found it.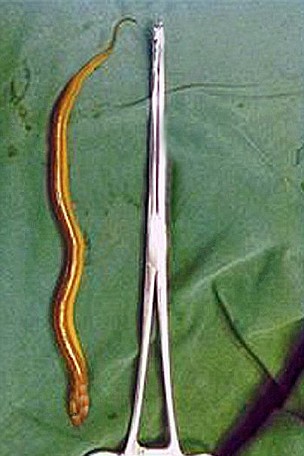 Surgeon Jin Wang said that, because of the eel's slippery nature, it was able to make a smooth entry into the genitals of Nan.
'The diameter of the urethra in a man's penis is just a little
narrower, but because eels are quite slippery, its body worked as a
lubricant and so it got into the penis smoothly,' he said.
(Really – stop cringing – we can see you…)
Believe it or not, Nan's case follows a similar incident when a 14-year-old boy in India had to undergo emergency surgery.
In a case study published by urologists Dr G Vezhaventhan and R
Jeyaraman, they described how they removed a 2cm-long fish from the
boy's bladder. The teenager said that while holding the fish he
had gone to the toilet and, while urinating, the fish had 'slipped from
his hand and entered his urethra'.
Hmmm…
---
News Source: http://www.metro.co.uk/weird/875317-eel-removed-from-mans-bladder-after-entering-penis-during-beauty-spa<font< a="">