Bonjour bukkake bandits,
saucy singer Katy Perry doesn't mind kissing girls it seems, but a Freudian slip revealed her aversion to getting something a bit more manly on her tongue.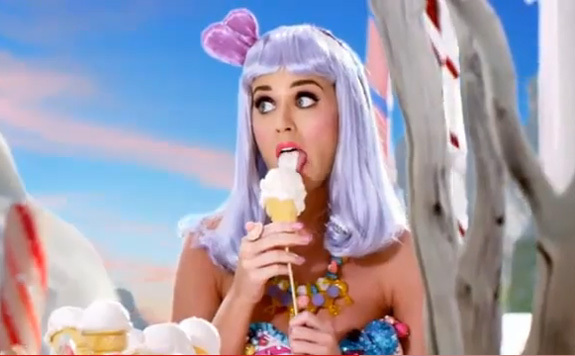 She describes the taste of cum in rather negative terms. Maybe her sperm donors ought to read our blog post on changing the flavour of your semen. Click here to see the BBC put diet and cum flavours to the test in their cum drinking documentary! No kidding, there's cum drinking on the BBC!
Give it a go Katy, it works!
Semen Simon
---

Katy Perry Hates The Taste Of Semen
By Douglas Charles
In case you were wondering, Katy Perry is not a big fan of the taste of semen.
Usually when Katy Perry does interviews in magazines all we care about are the photos, but in this month's Elle Canada it's the interview that got our attention when she dropped the knowledge that (a) she calls it a "load" and (b) she thinks it tastes nasty.
And I quote —
She has switched from drinking lattes to green tea, she hikes and she takes supplements. Then, while describing her preferred brand of vitamin C, she casually mentions that the only drawback is that it tastes like "a load and is disgusting."
She smiles, continuing on, and then stops dead and laughs. "I can't believe I just said that! Strike the 'load' part!"So Katy Perry thinks that a "load" is "disgusting."
Good to know, you know, in case every other man on the planet dies and we actually get a chance to date her.


---
Source: http://guyism.com/celebrities/katy-perry-hates-taste-semen.html#1-katy-perry-interview