This story cracks me up,
Just goes to show, don't ever trust your mates with a tattoo needle after you've just had an argument! You have been warned. A 16 inch cock tattooed all over your back? That's got to suck.
Semen Simon
---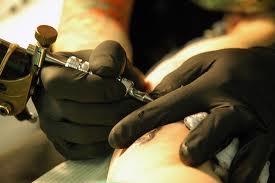 (World News Australia) A Queensland man faces criminal charges after allegedly tattooing a 40cm-long penis onto his mate's back, AAP reported.
Police said the pair had a disagreement before the tattooing.
"The victim … said he wanted a Yin and Yang symbol with some dragons," Ipswich Detective Constable Paul Malcolm told the Queensland Times, AFP reported.
"The bloke started doing the tattoo and there was another bloke standing there watching saying, `Mate, it's looking really good.'
"He was told not to go out into the sun and not to show anyone for a few weeks.
"When he got home he showed it to the person he lives with and she said: `I don't think it's the tattoo you were after'."
Police have charged a 21-year-old man from Bundamba, near Ipswich, with two counts of assault occasioning bodily harm and one offence relating to the public safety act.
Later reports said the man allegedly punched the victim.
Detective Constable Paul Malcolm said a 25-year-old man had gone to the alleged offender's house and "somehow in the course of the conversation the subject of tattoos came up".
It will cost the 25-year-old alleged victim about $2000 to remove the lewd tattoo, which depicts a 40cm-long image of a penis and a misspelled slogan implying the man is gay.
The man who allegedly etched the tattoo will also face a public safety charge because he was not a professional tattoo artist and there could be hygiene issues, AAP reported police as saying.
---
News source  http://www.sbs.com.au/news/article/1394146/Man-wanted-Yin-Yang-tattoo-got-penis