Some art just blows us away. And some art just, well, blows.
This artistic piece by Wojciech Kosma was entitled, rather imaginatively, 'Blow Job' and has been exhibited in art farty festivals and art houses in Warsaw, Berlin, and Brighton amongst others.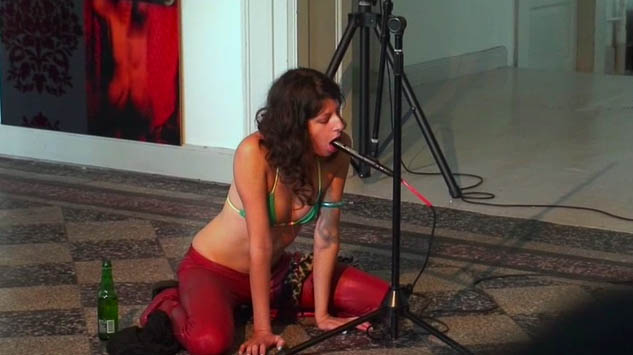 Kosma's art involves a girl wrapping her soft, pliable lips around a microphone and blowing it. The performer (not the male artist Kosma thank God) sometimes gives it a tender suck and lick and other times virtually orally rapes the microphone. This slobbering is accompanied by the whistle and screech of the orgasmic microphone. Not necessarily the best sonic art in the world but you can forgive it when there's a sucking girl giving you a boner.
It's strangely more stimulating than other art you might see hanging on a wall somewhere. Here is a teasing performance in Warsaw. You can feel the microphone's urge to grab her head and start face fucking her.
[embedyt] https://www.youtube.com/watch?v=8Am6adI4Dyk[/embedyt]
A more pacy blow job with some decent attention to the shaft, close up.
This one is wild and passionate and she seems to really want the mic to blow its load. She seems totally lost in a cocksucking trance does her best to suck and swallow! It's amazing that the microphone is still standing after what she did to it. It's also amazing that with all that sloppy salivating that she wasn't electrocuted.
I can't find the name of this girl, but I'd like to salute her. Any girl who makes a living travelling the world giving public blow jobs to microphones (and has so far survived) ought to be applauded!
Semen Simon