Orgasms. Art.
Can the two overlap? Well indeed they can according to Clayton Cubitt. In his latest artistic project Hysterical Literature Cubitt has pretty women being stimulated until they finally reach body-quaking orgasms. What's different about these orgasms, and what separates his work from porn is that the women are modest and fully dressed, with all the naughty bits out of shot.
Oh, and they are trying to read a book at the same time!
What is out of view is "an assistant" below the table attentively stimulating our pretty art lovers with a potent vibrator!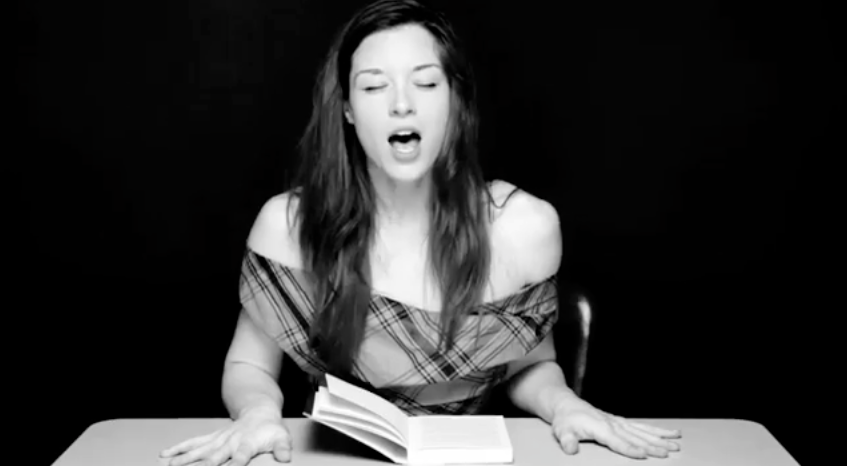 The best thing about this is that the book readers are all doing their best to keep it all together whilst the unseen vibrator tickles and teases them, to read in all seriousness some proper literature whilst fighting off what eventually is an all-powerful orgasm. They start composed and measured but after a few minutes you see their composure cracking. They squirm the arses around, their voices tremble, they pant and moan breathlessly, and eventually they totally lose it!
The result is highly erotic yet deeply personal. You experience the girl, not some anonymous genitalia. And in my humble opinion as a porn producer and slightly arty farty type, it is highly creative and original artistic work.
[embedyt] https://www.youtube.com/watch?v=PQuT-Xfyk3o[/embedyt]
Foxy Stoya thoroughly enjoys her literature which helps bring her closer to her joyous and convulsing orgasm. She basks and beams in her pelvic afterglow.
[embedyt] https://www.youtube.com/watch?v=nHt4IEyYuyQ[/embedyt]
Breathless Alicia takes mountains of pleasure with relaxed indulgence. She twirls her hair, sighs and absorbs the best the humming sex toy can give out. She obviously can take a pummeling before getting off.
[embedyt] https://www.youtube.com/watch?v=nEx2zQ_0Inc[/embedyt]
Giggling Danielle clasps her mouth and turns left and right with embarrassment and has a job keeping a straight face as the vibro does its devilish work.
[embedyt] https://www.youtube.com/watch?v=lUARpT4JJew[/embedyt]
This sassy babe is clearly easily aroused. Trembling Stormy can't control her wavering vocal cords at all. She noisily blows her top in less than four minutes.
[embedyt] https://www.youtube.com/watch?v=oRC2UH9X27Y[/embedyt]
Slender Teresa does a fine job fighting off wave after wave of orgasmic close shaves before being overwhelmed by a table clenching climax. The sentence which triggers her rapture is "There's no earthly power but Satan!"
[embedyt] https://www.youtube.com/watch?v=2oNptc-IKeI[/embedyt]
Urbane Solé has a volcano of sexual energy inside her. She wells up with orgasmic power then erupts big time with screams that must have deafened the sound recordist. She certainly lets rip.
[embedyt] https://www.youtube.com/watch?v=2bcY5hSurYY[/embedyt]
Busty Amanda looks most worried as she tries to keep control of herself. It's no use though, she pants, heaves, whimpers here and there. Of course like the rest she finally the surrenders – slightly embarrassed at herself – to earthly pleasure.
These excellent flicks range from roughly four to eleven minutes and although it is tempting to skip the opening minutes to go straight to the orgasms, I'd recommend sitting through the whole thing, one after another. Witness the demolition of their civilised outward behaviour, demolition by dildo! They try to keep it in but they can't. It's those little micro expressions, obvious signs they are becoming more and more uncontrollably aroused, and the gradual defeat of these awesome girls' defenses a that is the most fun.
Enjoy the show!
Semen Simon
---