Hello bukkake bloggers,
apologies for the lack of real blog entries recently, I am busy this week or two with moving house and messing around with all sorts of associated hassles and crap. I've had to chuck out a tonne of stuff and its been heart wrenching! A whole stack of porn is destined for the bin as I have to be ruthless in deciding what I have space for. This mountain includes some of my old favourites going back to the 90s, some of my earliest bukkake flicks.
I've saved my most wankable ones but the others sadly, a sackful, must go. I may try donating some to friends or perhaps leave them somewhere outside where some perv might pick them up and take them home. Its my way of saving the planet and recycling materials. Actually, on second thoughts that might not be so wise… anyone might stumble upon them and they got my fingerprints on them if the cops come knocking.
Incidentally Saya's pearl necklace (for our foreign readers this is slang for 'tits bukkake') seems popular and I can reveal that she is up next receiving a rather forceful facial! The tour page will be updated very soon and I'll be posting some sneak previews on the blog. I think you'll like it.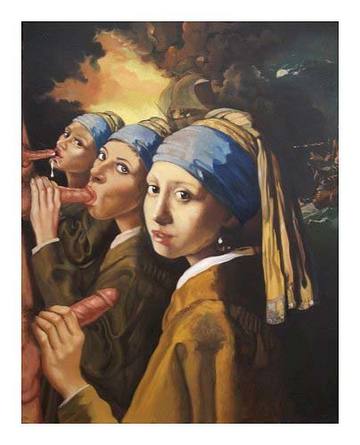 Talking about pearl necklaces this famous painting by Dutch painter Johannes Vermeer shows he also enjoy bukkake related subjects right back in the 17th century. Entitled 'Girl with the Pearl Earring' this masterpiece is known for its subtle colour tones and the alluring gaze of the unknown girl.
The pearl earring is the focal point of the painting. Until recently, where this rather simple girl got this expensive pearl earring was the subject of artistic debate and literary fiction. However, the latest art restoration techniques have revealed previously hidden details in the picture and the origin of her pearl earring and necklace is now obvious.
Take a look at the fully restored version above to see what it originally looked like back in 1665. If the 2003 movie with Scarlett Johansson had been more accurate I might have gone and watched it. Hell, who wouldn't have?!
Semen Simon