Thank God.
Huge-arsed glam rocker Rod Stewart has gone on the record as saying that he never gave blow jobs to an entire battleship of sailors and never had to go to hospital to remove pints of the slimy pancake batter with a stomach pump.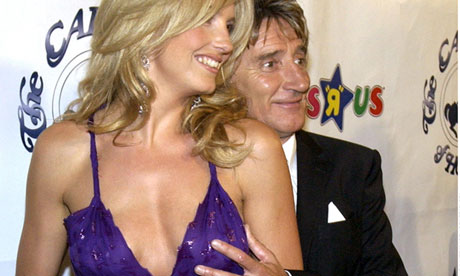 (Above: Rod Stewart fumbles the tit of his third wife, Penny Lancaster)
The story has been doing the rounds for years but Rod hit the bullshit button in a TV interview. Apparently he admits in his recently released autobiography that he did stuff cocaine into his rectum, but that was because he was worried about the damage continuous snorting might do to his nasal passages and therefore his voice. It s
eems he wasn't worried about what it might do to his arsehole, but there you go. 
I wouldn't have blogged on this if it it turned out that the whole story had been true, Rod Stewart's 
stomach full of semen
is just too hideous to contemplate.

Semen Simon

---
By TMZ
Rod Stewart Calls BS on 'Stomach Full of Semen Story'
Rod Stewart says he doesn't have a taste for gay male sailors … and NEVER had his stomach pumped after a wild night out with a bunch of sea men in San Diego … despite the decades-old rumour. 
Stewart opened up about the situation on Katie Couric's show — when she asked him straight up if there was any truth to the X-rated story that's been circulating since the '80s. 
Rod explained, "I used to have this guy work for me, he was a gay publicist … I had to fire him because he did something terrible, which I won't go into. He wanted revenge so he started this rumour about me, and it was horrible because my kids were at school. So that is definitely not true."
He added, "I'm as heterosexual as they come."
Stewart goes into more detail about the story in his new book,"Rod: The Autobiography" — in which he writes:
"I have never orally pleasured even a solitary sailor, let alone a ship's worth in one evening. And I have never had my stomach pumped, either of naval-issue semen or of any other kind of semen."
---
Source: 
http://www.tmz.com/2012/10/26/rod-stewart-stomach-full-of-semen-rumor-katie-couric/