The 2010 World Cup is finally at an end. Spain won the cup last night, after a pretty shitty final and a solid, if not especially glorious tournament. I guess you can say they were the best team overall, but at the same time other teams, with the exception of Germany, Uruguay and Holland, all underperformed. There's been some good football, some totally shit football and one or two thrills and spills (yes you Robert Green you bastard) along the way. Highlights? Well for me, the magnificent collapse of the French was one of the best bits, as they crumbled and then imploded spectacularly – losing, bickering, swearing at their coach, refusing to train, getting sent off, sending players home, officials resigning and even the French President getting embroiled in the utter self inflicted humiliation. Wonderful stuff.
World champions Italy crashing out bottom of their group in the first round, New Zealand holding their own, Japan progressing, fresh teams winning through to the final rather than the usual suspects, and the great Mandela, there's been plenty to watch for the neutral.
And of course the world cup wouldn't be the carnival it is without the crazed fans, and indeed the world cup babes. There's been a few, though I have to say that I would have preferred a few more exposed tits in this tournament. I guess they shouldn't hold it in the the southern hemisphere in future, it is winter, and that tends to cover them up a bit. The future is bright though – where is the next world cup being held? Brazil.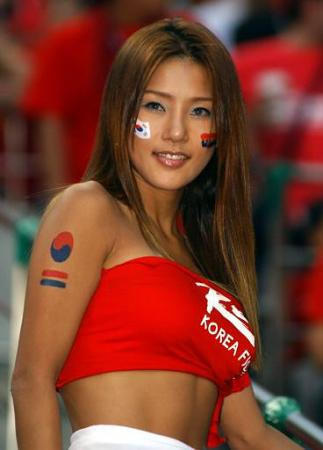 Korean crumpet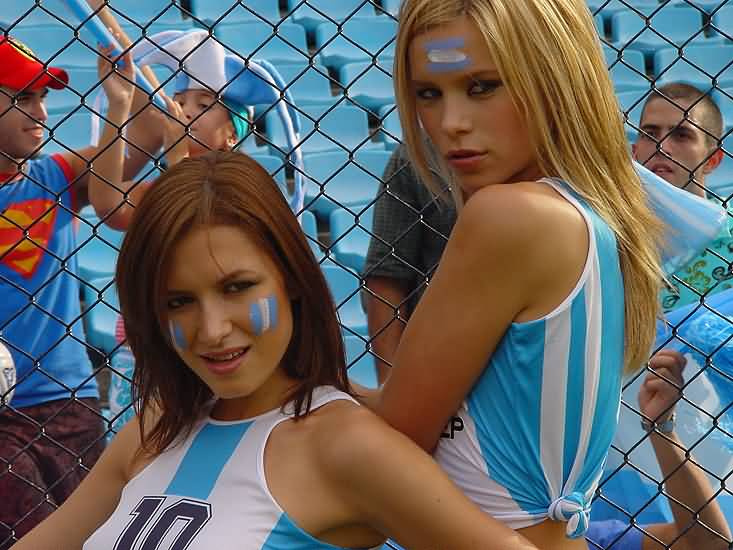 Simmering Argentinians looking for hard tackles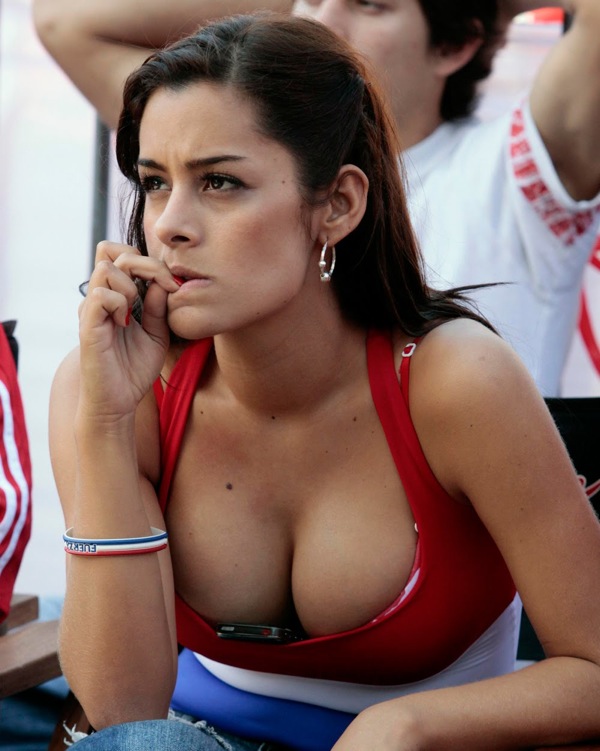 Mobile phones? No, tits.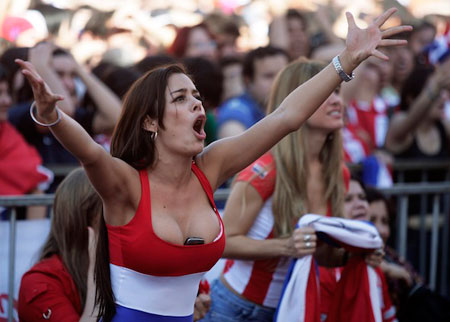 More phones? Well yes, and more tits.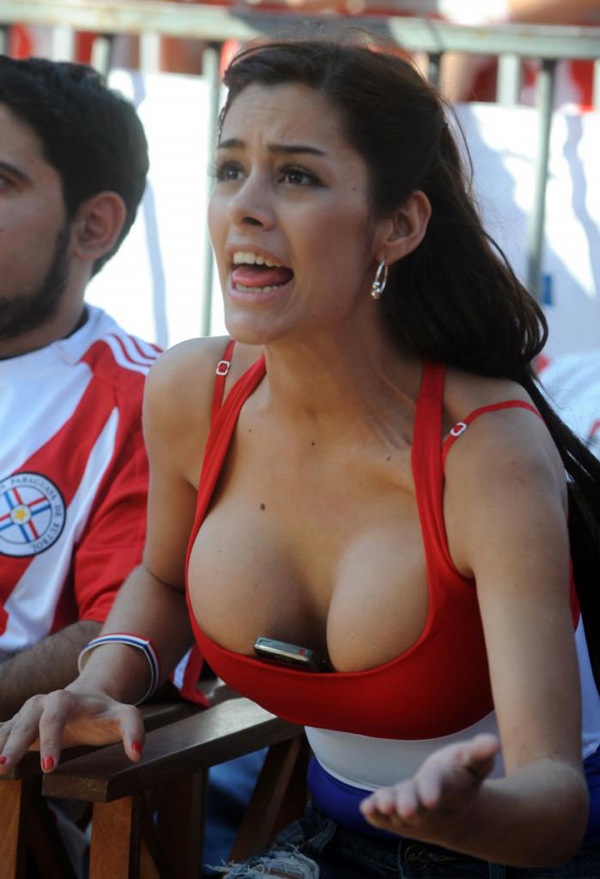 Vibration mode?!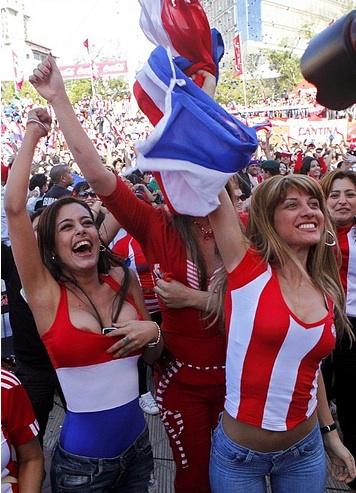 This Paraguayan fan with generous jugs is glamour model Larissa Riquelme. She promised to strip naked if Paraguay won the world cup! They lost in the quarter finals to Spain.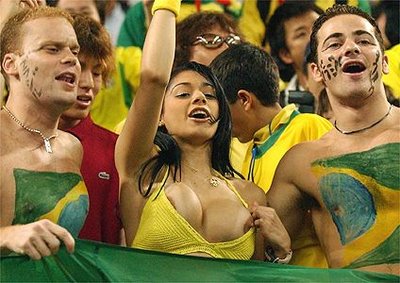 Not quite sure if she's pulling her top up or 'accidentally' pulling it down, but who cares.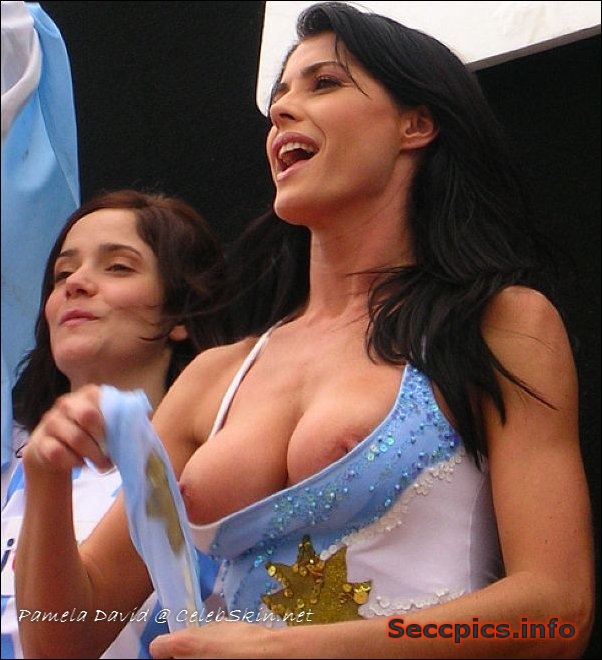 An Argentinian shows Larissa Ricquelme how its done. I'm referring to the one on the right…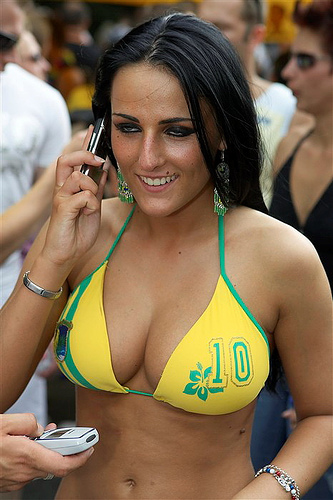 What happened to Ronaldo, Rooney, Torres, Kaka, Messi? Who lit up this tournament? None of the so-called 'stars' did much of note. Multi millions in sponsorship for what? Sod all really. I'd be pissed off if I were their sponsors.
But always a star is born in a world cup. And it says quite a lot about this tournament that the true star that captured the world's imagination was an octopus! Paul the psychic octopus got a 100% record and 'netted' 8 times out of 8, defying random odds of 256-1. He predicted all 7 of Germany's results plus the final! I mean just think about that for a minute. Do you know anyone who has done that well? The soothsaying mollusc has made lots of enemies with whole nations blaming him for their exits and threatening to fry him with potatoes, hack him to bits, etc, but its hardly his fault. He predicted defeats for these countries, he didn't cause them, the poor tentacled git! Apparently he is unfazed by the death threats received, or the reports that Asian gambling syndicates are planning to kidnap him. And let's face it, for an octopus he has done very well. He's screwed the bookies and has caused a seismic shift in the sport. Gone are the days when people used to blame the referee, now they blame an octopus in an aquarium in Germany.
His lifespan is quite short so he ought to be putting his feet up, all 8 of them, and chilling out a bit and maybe cashing in on his fame and shagging lots of horny young females octopuses. What does the future hold for him? Only he knows.
Semen Simon