Bukkake in LA?
What's this about? Well last week saw the women's world cup between the USA and Japan and of course we fully supported the facefuckers of the Far East. And they won, beating the USA on penalties after a 2-2 draw.
Voluptuous porn star Kelly Shibari had a big appetite for the women's world cup. So much so she's offering free blow jobs and bukkake to mark the occasion! If you're around Los Angeles on August 7th you might be able to get a BJ off her and blow your nuts on her too!
Hurry if you want to join in, details in the nice write up by Rhett Pardon below!
Semen Simon
---
Rhett Pardon
LOS ANGELES — Kelly Shibari has slated Aug. 7 for her World Cup
blowjob and bukkake show, an event that can be viewed on Streamate in
her first webcam show.
Shibari, the 42-F performer and adult marketer and producer, told
XBIZ that she'll later make available the content for a DVD, as well as
on video-on-demand sites.
"We'll be actively promoting on Twitter, Facebook, as well as via some message boards and general press," she said.
The busty Japanese-American star operates plus-sized fetish site PaddedKINK
and had shared on Twitter and Facebook that she would provide free
blowjobs with a bukkake climax when the Japanese defeated the USA in the
Women's World Cup finals.
"There has been an outpouring of support for this show, both from
companies and fans," she said. "I now have an amazing support team and
can't wait to share this form of Japanese erotica as a way to celebrate
the Women's World Cup victory."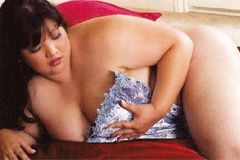 Shibari said she'll pick a pool of 30 Los Angeles-area men who will
partake in the event. All of the men must have a valid adult industry
STD test result from Talent Testing Service.
The webcam show, a first for her, will be available live at 2:30 p.m.
on Sunday, Aug. 7, and last a "World-Cup-approved 90 minutes."
RSVPs for the World Cup Blowjob and Bukkake Show may be sent to [email protected]. An FAQ has been detailed on Shibari's site, KellyShibariXXX.com, and a Q&A chatroom session has been scheduled for Friday from 7 p.m. PST at Streamate.com/cam/KellyShibari.
---
Source : http://www.xbiz.com/news/136720