Hi guys,
For some reason I had a surge in traffic of people doing a search for this interesting post. It was one of the older ones, from back in 2010 and I hadn't got round to re-uploading the pics back there (after our server company pulled the plug!)
Yes that is an X-ray of someone getting a blow job. So if it was you, here is the intriguing pic!
By the way, all of the pics for 2010 have now been re-uploaded, have a little delve in there for some bukkake golden oldies!
Semen Simon
---
Interesting…
When medical students have a little too much time on their hands what do they do? Well, swipe the key to the radiology room and get into some secret late night face-fucking with an unhealthy dose of gamma rays, that's what!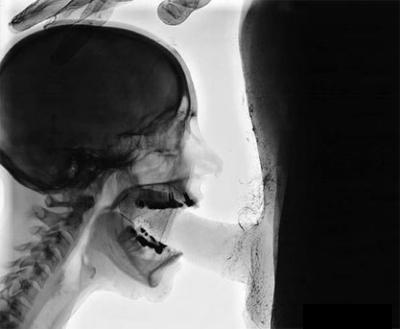 You probably didn't want to know that an X-ray of a blow job looked like that. But it makes you wonder how on Earth your nob does a 90 degree turn in a deep throat! Or are those sword swallowers anatomically different!? More research needed, medics please take note!
Semen Simon