Yes your eyes do not deceive you. That is no Photoshop dawdle but a real building under construction and it is turning out to look like a great big massive cock.
And I can reveal it is not a new Japanese office building in Tokyo's adult entertainment district. So who on Earth would build something like this? Those industrious Chinese that's who. If they can build the Great Wall of China why can't they build the Great Cock of China?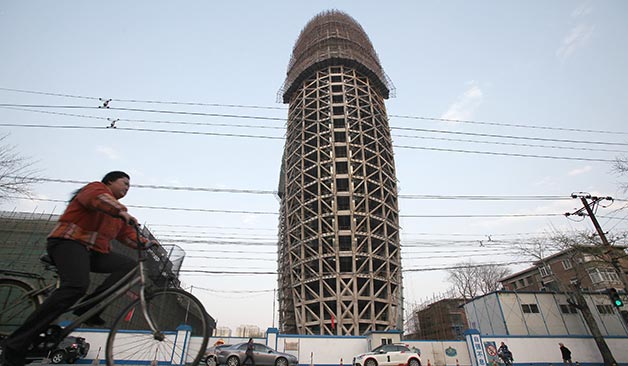 The Chinese building stands proud and erect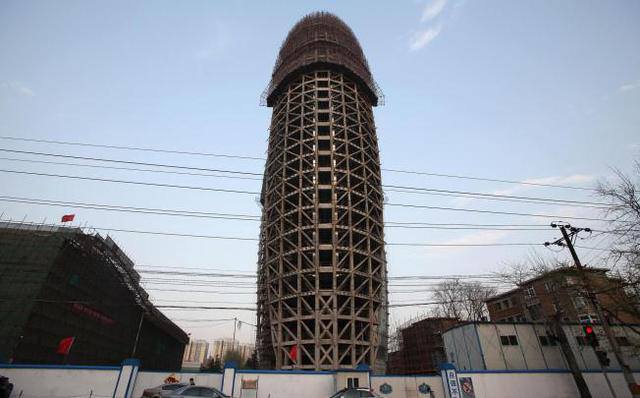 The giant cock building is getting a lot of attention and admirers
It seems however those humorless Chinese authorities did not build this gigantic dong deliberately for us all to laugh at as Oliver Wainwright from The Guardian explains in his informative article below.
I wonder if they are building a huge pair of hairy balls behind that wall at the bottom?
Semen Simon
---
Does Beijing's new People's Daily building remind you of anything?
Its state TV headquarters has been called the big underpants. Now China's official newspaper has a phallic tower to match
By Oliver Wainwright, The Guardian
Beijing's building boom has already spawned a wealth of novelty forms, with a stadium in the shape of a bird's nest, a theatre nicknamed the egg, and a TV headquarters that has been likened to a giant pair of underpants. But the official People's Daily newspaper might have trumped them all with its new office building, which appears to be modelled on a colossal phallus.
Photos of the scaffold-shrouded shaft have been circulating on Weibo, the Chinese micro-blogging site, to the authorities' dismay, with censors working overtime to remove the offending images. "It seems the People's Daily is going to rise up, there's hope for the Chinese dream," commented one user. "Of course the national mouthpiece should be imposing," added another.
The 150m-tall tower, located in the city's eastern business district, appropriately near OMA's pants-shaped CCTV headquarters, is the work of architect Zhou Qi, a professor at Jiangsu's Southeast University.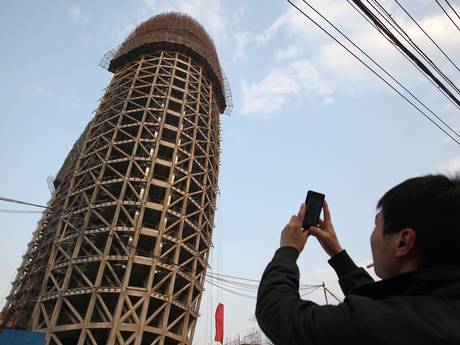 "Our way of expression is kind of extreme," Zhou told the Modern Express newspaper, "different from the culture of moderation that Chinese people are accustomed to." He explained the design was inspired not by part of his anatomy, but by the traditional Chinese philosophy of "round sky and square earth" – the tower tapers from a square base to a cylindrical top. He claimed that the elongated spherical form was designed to recall the Chinese character for "people" from above. The fact it might look like a male member from below was clearly a secondary concern.
Cleaner-minded commentators have compared the building to everything from a steel-framed penguin to an electric iron, a giant juicer and an aircraft carrier. But perhaps Zhou should take solace in the fact that his tower joins a long tradition in architecture – from the thrusting Dionysian columns of ancient Greece to the sturdy stone linga of Hindu temples.
Beyond the ancients, phallocentric design found fertile ground most notably in revolutionary France, where architects Jean-Jaques Lequeu and Claude Nicolas Ledoux were continually preoccupied with penile plans.
In his unbuilt design for a House of Pleasure in 1773, Ledoux conceived a "lonely phallus", lined with bedrooms along its length, culminating in a large ovoid salon at the head, while testicle-shaped galleries framed the entrance. A second design elaborated his allegorical ideas about sex, with private bedrooms arranged to "thrust out from the circular ring of the building, metaphorically representing penetration, the circular ring representing the vaginal passage and womb of the female," according to architectural historian Paulette Singley.
France's penchant for the priapic continued into the 19th century, promoted by figures such as the painter Jules Breton, who suggested that the Luxor obelisk in Paris be adorned with a suggestive female hand grasping its girth, and the Vendome column be embellished with a clambering naked woman. More recently, architect Jean Nouvel has seemingly been keen to maintain the tradition: both his Torre Agbar in Barcelona and the Burj Doha in Qatar have attracted sniggers.
But China's authorities have yet to see the funny side: searches for the "People's Daily building" on Weibo are now simply met with the message "According to relevant laws, regulations and policies, search results cannot be displayed."
---
Source: www.guardian.co.uk/artanddesign/architecture-design-blog/2013/may/10/beijing-peoples-daily-giant-penis
Photo credit: Imagechina/Rex Features