It's here!
At Urabukkake.com we mark a lot of famous international holidays for our international following – Christmas, Eatster, Chinese New Year, Guy Fawkes Night, US Independence Day, Bastille Day, you name it!
We even mark Valentine's Day, that soppy holiday for girls!
A lot of holidays have geographical or cultural element to them. But today is a holiday that isn't limited to country, history or gender! It is a day that everyone in the world can enjoy. What day is it? It's steak and blowjob day!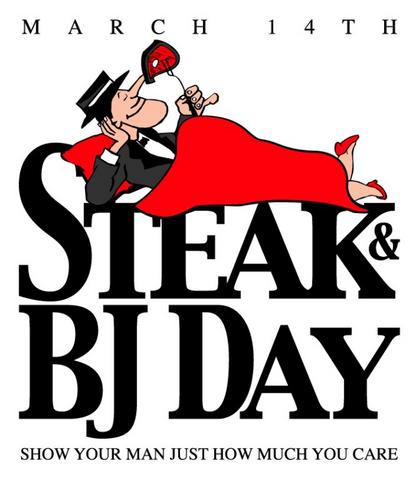 Well those new to the Urabukkake blog may not know exactly what Steak & BJ Day is. Read the summary from Cute Calendar below!
Join in the global celebration of this most joyous international holiday! I know I will be!
Semen Simon
---
Steak and BJ Day 2017
March 14, 2017 in the World
Steak & BJ Day is celebrated on March 14, 2017. Steak and BJ Day is a holiday celebrated one month after Valentine's Day. It was founded because Valentine's Day is a made up holiday for women and vegetarians; so it is only fair that there is an equivalent holiday for normal people.
The idea is simple: there are no cards, flowers, candy or other overpriced fluff. Partners need only to bestow their man with a steak and a BJ. But not necessarily in that order. And not necessarily only once that day. (With material from: Uncyclopedia)
Where is the event?
Worldwide
World
When is the event?
Tuesday, the 14th of March 2017
---
Source: www.cute-calendar.com