Cum laude is not allowed!
It seems some dippy grocery store bakers in the States have got their knickers in a twist because od a cum cake. Now, it was not a cake with a massive cock on it spouting thick jizz like the cake below.
No it was for a graduation! As in "cum laude"…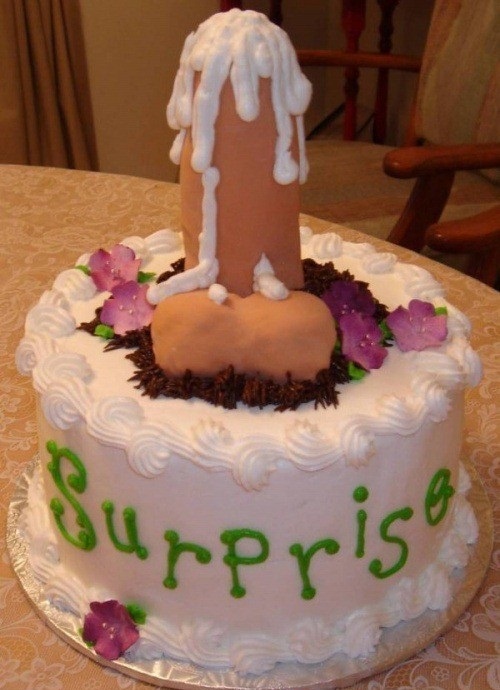 Read on about these flour covered sperm haters in white hats. It seems like someone at the bakery has never graduated!
Semen Simon
---
US student's 'Summa Cum Laude' Graduation Cake Censored
By BBC News
Anyone who has graduated from high school or university should be due a decent celebration.
But Jacob Koscinski, a US high school student, ended up somewhat disappointed.
The South Carolina student's mother had asked a local grocery store to print the term "Summa Cum Laude" (with the highest distinction) on her son's cake.
The store censored the term "cum" deeming it offensive and put three hyphens in its place.
Mr Koscinski graduated with a high 4.79 grade-point average from a home-school programme in Charleston, South Carolina.
His mother, Cara Koscinski, ordered the cake and its Latin message online, set for her son's graduation party with family members on Saturday.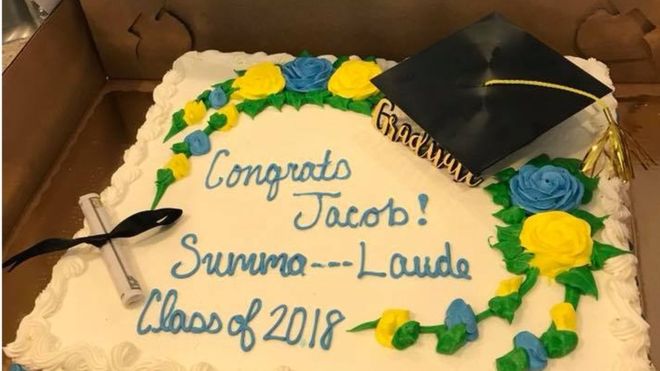 In a Facebook post, Mrs Koscinski said 18-year-old Jacob was "humiliated" by the cake's message and she had to explain the meaning of the "cum" term to her confused family members.
She had not been able to pick up the cake herself and didn't see her message had been censored until presenting the cake to her son.
Mrs Koscinski told the BBC that she was "shocked at first by the cake mistake, but now we're now laughing about it".
She shared a screenshot of the Publix grocery store's website with the BBC, showing the term "cum" listed as a "profanity".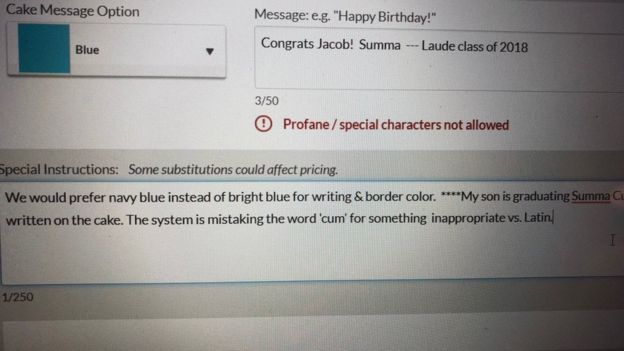 The word remains forbidden on the Publix website, The Washington Post reported.
Mrs Koscinski said she got in touch with grocery store Publix on Monday and explained the situation to them.
They said they would look into the incident and gave a full refund her a $70 (£52; €59) refund for the cake and a store gift card, which Ms Koscinski said she was "happy to accept".
---
Source: http://www.bbc.com/news/world-us-canada-44217118