Dear facial freaks,
we all love a good excuse to shove things up vaginas. And of course we love it even more when girls suggest stuffing objects up there without any prompting.
Well for some, posting weird things in the pink letterbox isn't about sexual gratification, or being a bit pervy at all.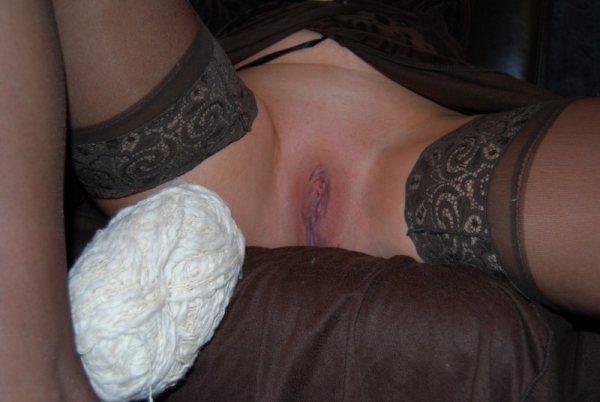 Above: A ball of wool and a vadge
No for some jamming things in one's pussy, and slowly pulling it out in public, is all about art. And this is the case of what threading balls of wool from one's vadge is all about, the artistic merit of 'vaginal knitting.'
Below is a report about the recent crotch knitting sensation down under.  Casey Jenkins and her talented vagina have been causing a bit of a stir down there with her very long, rather blotchy scarf.
If she was your auntie you really wouldn't want her to knit a Christmas sweater for you would you?
Semen Simon
---
Vagina Knitter Casey Jenkins 'Will Not Apologise' For Her 28 Day Art Performance
By Anne-Marie Senior
Casey Jenkins who became an overnight sensation – for knitting from her vagina has hit out at critics.
The Australian artist is in the middle of a 28-day performance called Casting Off My Womb, designed to capture her entire menstrual cycle.
The craft-fan, from Melbourne, uses a new ball of wool inserted into her vagina each day to knit during her performance, which is taking place in Darwin.
The piece of art has attracted almost four million YouTube hits, as people around the world follow her jaw-dropping progress.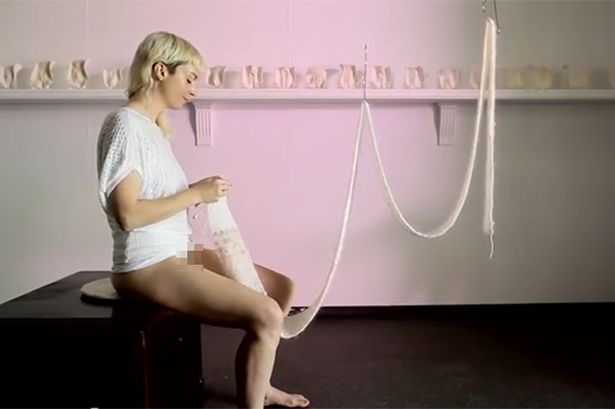 Above: Vaginal knitting, Casey doesn't even stop when she has her period
Now, Casey has hit back at critics who have been repulsed by her work and labelled her an attention seeker.
The 34-year-old addressed the negative comments in a piece in The Guardian.
She said the performance "gives an overview of the work in which I used skeins of wool lodged in my vaginal tunnel to knit a long passage, marking one full menstrual cycle."
But said she was disappointed in the public's response, much of which has been directed to the fact she plans to continue knitting even during menstruation.
[embedyt] https://www.youtube.com/watch?v=q6RZZf6HMzo[/embedyt]
She added: "The response to the clip was immediate, massive and, for the most part, negative, marked with fear and repulsion. The word 'ick' features heavily, as do 'eww', 'gross' and 'whyyyy?'"
She hopes people will consider why they have reacted so negatively: "I have created a performance piece that I believe is beautiful and valid and I know that this belief can withstand all the negativity in the world."
The clip of the performance at Darwin Visual Arts Gallery was shot by SBS2Australia.
---
Source: http://www.mirror.co.uk/news/weird-news/vagina-knitting-art-casey-jenkins-2937041