Having an orgasm,
is not a bad thing is it? Popping my nutsack, preferably in a girl's face is often the highlight of my day. I'm sure most guys would love to have another groinal explosion if it weren't for the fact that we'd pretty much emptied our balls of jizz and exhausted our schlongs, both of which which need some time to recuperate.
Women however can keep knocking them out, racking up several orgasms on the trot. Some can just keep going like Barbarella in the orgasmatron, enjoying climax after convulsing climax, turning men and their spent dongs green with envy. If you recall, the orgasmatron was supposed to bring death by orgasm but she overloaded and wrecked it, coming out feeling pretty good.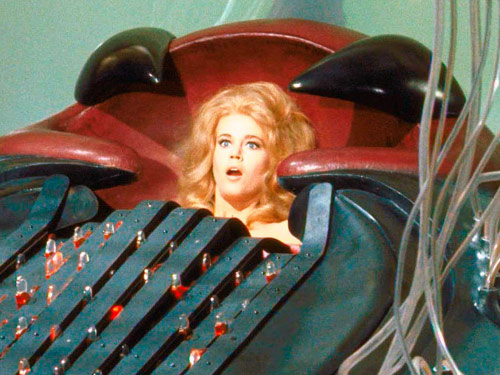 But sometimes something goes wrong in the female body. Something goes amiss in their vadge, wires get crossed in the body somehow and resultingly, some rare women can end up with maybe one hundred uncontrollable orgasms a day or more.
Sounds fun? A blessing? No. Not surprisingly being subject to thousands of involuntary orgasms a month actually is no fun at all. In fact the results of persistent genital arousal disorder can be tragic with women pushed to their limits with this debilitating condition. Some such as the sad figure of Gretchen Molannen have even been driven to suicide.
[embedyt] https://www.youtube.com/watch?v=JKqPtfm1WCE[/embedyt]
The documentary above explores the lives of women who suffer from the torture of years of endless uncontrollable orgasms. Anything can set them off and they spend their lives avoiding things like rattling washing machines. It's quite an eye opener.
Semen simon